Taşev
When i came to Safranbolu in 2000 at a weekend i have beheld a dream of mine coinciding with "TAŞEV" when i had dreamt and had it gradually improved .Falling in love with residences is like falling in love with human beings, it has the ache in itself, it has the aspiration.It flutters your heart.It misses your sleep.You get attached to a village, a house in that village.And so will you see the first youth dream came true in your last youth.
Safranbolu and "TAŞEV" are a constant love case for me…
Leyla Sumru YAĞMURDERELİ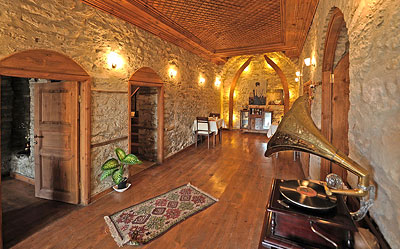 Safranbolu
It's a very old historical city in West BlackSea Region.Its named as " PAFLAGONYA " in Rome – Byzantine and the previous times.Then city center of Safranbolu; because it was set by the Ion Princess Teodara 2000 years ago it s been called as "TEODORAPOLIS" meaning "Teodora's City".There was dominated in order of Hittite, Frigs, Lydia, Persia, Rome, Helenistic Kingdoms, Selcuks, Çobanoğulları, Candaroğulları and the Ottomans.
In Byzantine times its DADYBRA, in Selcuks times ZALİFRE, in the first times of the periods of beyliks and the Ottomans it was BORGLU and has been then BORLU, afterwards TARAKLIBORLU, ZAĞFİRAN-I BORLU, ZAĞFİRANI BENDERLİ, and as from the last quarter of 19.s in order of ZAĞFİRANBOLU, ZAFRANBOLU and SAFRANBOLU.
Safranbolu has historical houses that had been made with an architectural value by Roman- Turkish architectors, Cinci Inn, fountains,(known as 110), mosques, the Roman and Turkish architected old baths.Goverment Mansion now used as a museum, the clock tower, Yemeniciler Bazaar(Arasta), District Governor's Museum, Köprülü Mehmet Pahsa Mosque and the Sun Clock, the old Aya Stefanos church-Great Mosque built by the Roman architectors in Kıranköy previously named as KIRANDOS and Roman School-Iskalion are the places where worth to see.
As for nearby; İncekaya aquaduct, Mencilis-Bulak Cave(the lenght is not certain), Hızar Cave(5 kms lenght), king tombs, İncekaya, Tokatlı, Düzce-Kirpe, Sakaralan-Tekekurum, Valla(its known as the worlds second biggest canyon), Yacı Canyons, Üçbölük, Yazıköy, Akören, Hacılarobası and Yörük village are also the historical villages nearby.